Smart Bases
6
Production Bases
20GW
Solar Module Capability
Smart Bases
6
Production Bases
20GW
Solar Module Capability
Layout Large-Scale Industrial Capability
Through the layout of scale industrial capacity, JinenU Solar takes the unique advantages of different locations, effectively leverages scale advantages, strengthens the integration of supply chain, focuses on the combination of high-quality manufacturing and customized services, and realizes the one-stop multi-location manufacturing and delivery service strategy. JinenU Solar is headquartered in Shanghai and has manufacturing bases in Zibo and Tai'an in Shandong Province, Taizhou in Jiangsu Province, and Qianshan, Hexian, and Yuexi in Anhui Province.
The End of 2023
6
Production Bases
20GW
Solar Module Capability

Qianshan · Anhui
Hexian · Anhui
Yuexi · Anhui
Multinational System Certification and Reinsurance Services
JinenU Solar always adheres to strict production standards and quality management system. Our products have passed ISO9001, ISO14001 and ISO45001 certifications, and have obtained multi-national certificates such as CQC, TUV, CE, CB, BIS, JPEA, MyHIJAU, etc. We also own the protection of Swiss Re-insurance, which further enhance the risk resistance capability of photovoltaic investment projects. As a service provider focusing on ODM|OEM, JinenU Solar is committed to providing more reliable and efficient customized photovoltaic solutions to global users, empowering photovoltaic manufacturing enterprises worldwide.
ISO9001, ISO14001, ISO45001

CQC:IEC61215 / IEC61730

TUV:IEC61215 / IEC61730

BIS, JPEA, MyHIJAU
20GW

Scale Advantage

The existing six bases have 20GW capacity, and nine bases will be put into operation in 2024 to realize 30GW module capacity. Through centralized procurement and vertical integration of the supply chain, JinenU Solar improves quality, reduce costs, and increase efficiency.
One-stop Multi-site Manufacturing
and Delivery Service
JinenU Solar's production bases are located in various areas in China, such as Zibo and Tai'an in Shandong, Qianshan, Hexian, and Yuexi in Anhui. The domestic distributed shipment is to save transportation costs. The base in Taizhou is close to the port transportation hub, which facilitates logistics and product exports, saving inland and sea transportation costs and time. JinenU Solar always puts customer needs first, and all bases have advantages in convenient delivery, shipping costs, and talent reserves, aiming to provide customers with better products and services.
Improve Efficiency
Optimize distributed delivery

Reduce Costs
Reduce transportation costs

Ensure Convenience
Distributed in the north and south, and near ports

Ensure Quality
Deliver efficient and stable products on time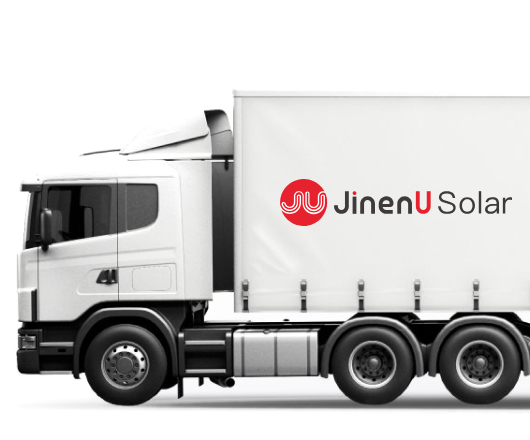 Fully Automatic Smart Production Equipment
JinenU Solar adopts a new generation of advanced production lines equipped with highly automated and intelligent AI production equipment, to reduce errors caused by human factors. On average, we can produce a high-efficiency module every 16 seconds, with a single-shift production capacity of 2000+. This effectively improves productivity and yield. By implementing a scientific production management system, we can increase the utilization of production capacity. Moreover, we allocate the most stable equipment for the nine key processes that have the greatest impact on yield, thereby reducing production costs.
Automatic Soldering Stringer
Realize the welded series connection of cells

The equipment is compatible with a wide range of cell sizes, such as 182mm, 210mm, etc. Through the infrared low-temperature welding process, the positive and negative electrodes of the cells are welded to form a series-connected cell string.

Automatic Welding Machine
Realize the soldering of busbars and soldering tapes

The device uses a high-speed welding machine to make adjustments to the prearranged cell strings. It utilizes electromagnetic induction welding to achieve fully automatic interconnection welding of the busbars, with visual positioning detection.

Automatic Laminating
Enable laminated encapsulation of modules

Through the double-layer double-cavity electrically heated laminator vacuum, the air inside the module will be discharged, and at the same time, the heating temperature will make the adhesive film melt to stick the cell, glass and other materials together, so as to encapsulate the cell inside the module.

Automatic Framing
Realize the installation of modules and borders

Adopt automatic gluing and framing integrated machine to install the frame onto the laminated module. This process enables automated movement, gluing, carrying, and framing, resulting in high precision and efficiency in assembly.
If You have ODM|OEM Requirement, Please Contact Us
Our professional team will provide the satisfactory customized production proposal for you