JinenU Solar provides flexible customized services according to customers' requirements, including layout, power, color, etc., to meet the diverse customization needs of customers. In order to ensure that product performance and quality meet international standards and customer's customized quality requirements, JinenU Solar's bases have strict quality control systems and nd have passed a number of certification standards, and meet international standard organization's rigorous requirements for product quality management system, providing customers with ODM|OEM services or a full range of high-efficiency photovoltaic modules.
Multiple authoritative certifications constantly strengthen the quality control of JinenU Solar's products, providing customers with better and more flexible application solutions, creating more value, fully demonstrating the hardcore strength of JinenU Solar's ODM|OEM services.
● CQC Product Certification
JinenU Solar's Zibo base has been awarded the IEC 61215 and IEC 61730 product certification by CQC, which confirms that JinenU Solar's 182mm and 210mm customized modules comply with the national quality standards, as well as the high quality and reliability of the customised modules, and also reflects JinenU Solar's dedication to meeting the diversified needs of our customers through product quality and customized services. This certification covers 210mm monofacial&bifacial modules with 66 cells, 60 cells and 55 cells, and 182mm monofacial&bifacial modules with 72 cells, 60 cells and 54 cells, which are compatible with household and large-scale power stations.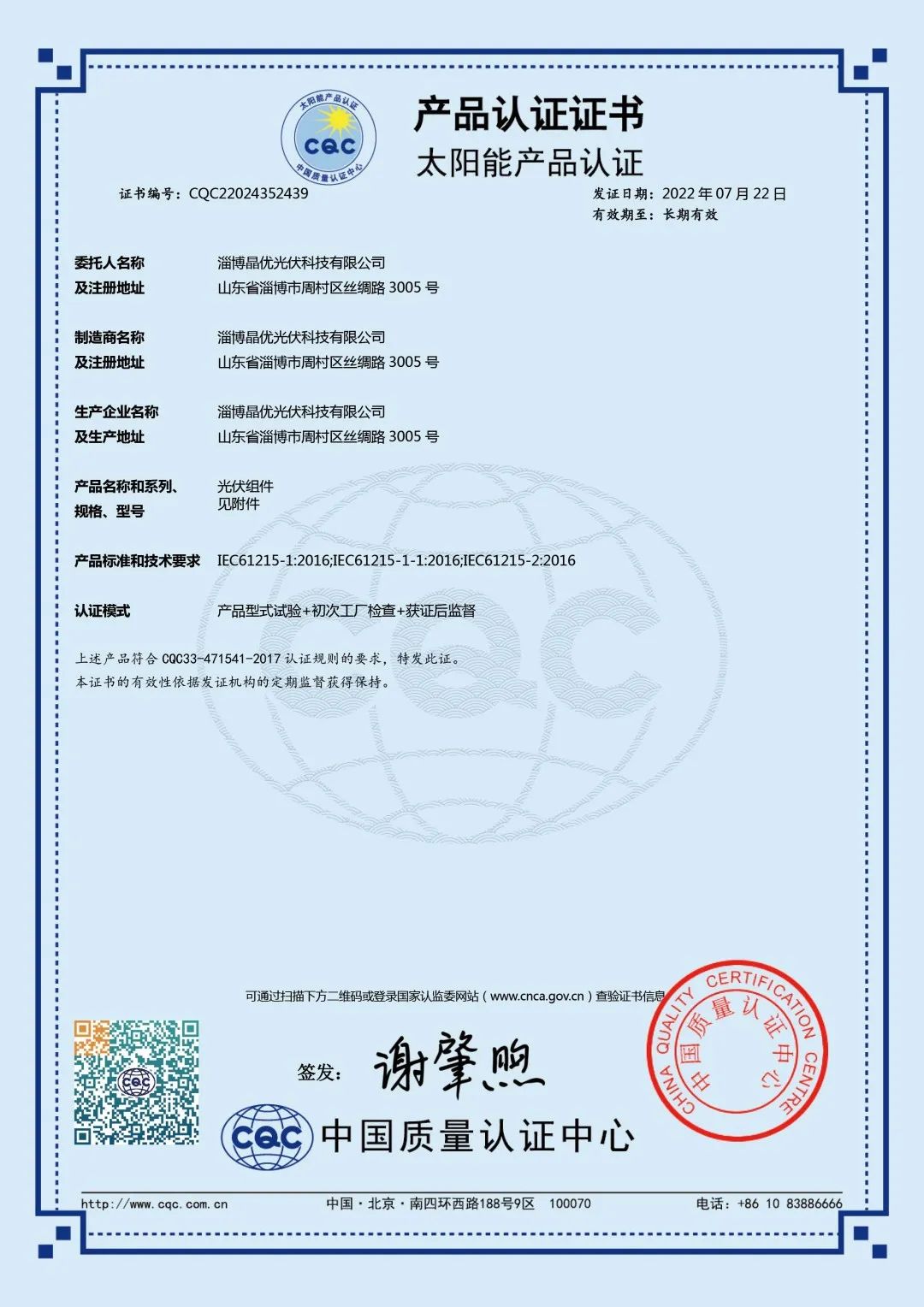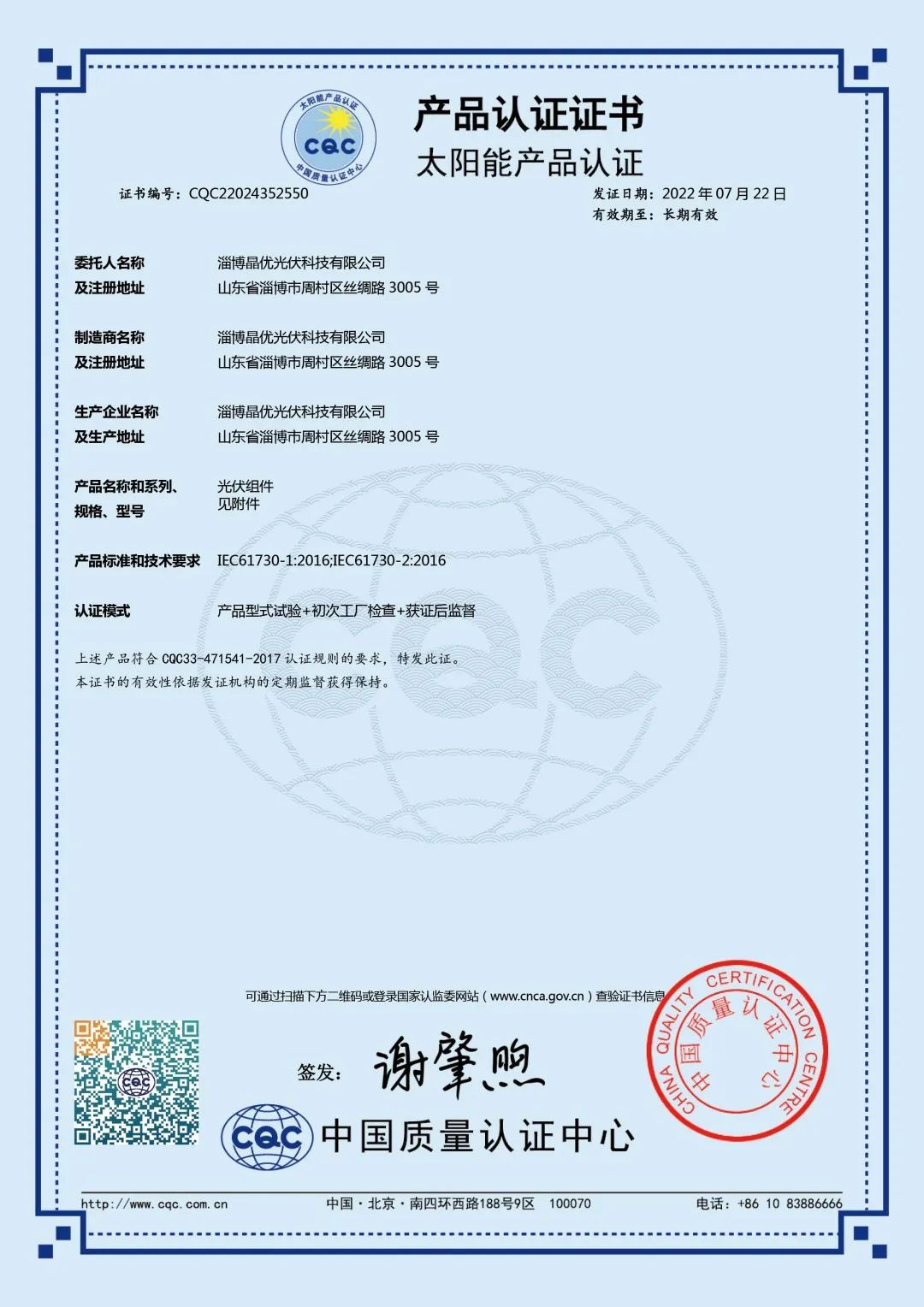 ● TUV Product Certification
JinenU Solar's three bases (Zibo JinenU Solar Technology Co., LTD, Taizhou JinenU New Energy Co., LTD, Tai 'an JinenU Solar Co., LTD) have received TÜV SÜD certificates for P-type and N-type customized modules based on the technical specification standards IEC 61215 and IEC 61730. SÜD has done IEC 61215, IEC 61730 and other tests for JinenU Solar's customized modules and the modules performed well throughout the test cycle, finally passing the TÜV SÜD series of tests and harvesting the TÜV SÜD certificate for PV modules, which further proves JinenU Solar's technological strength in product customization.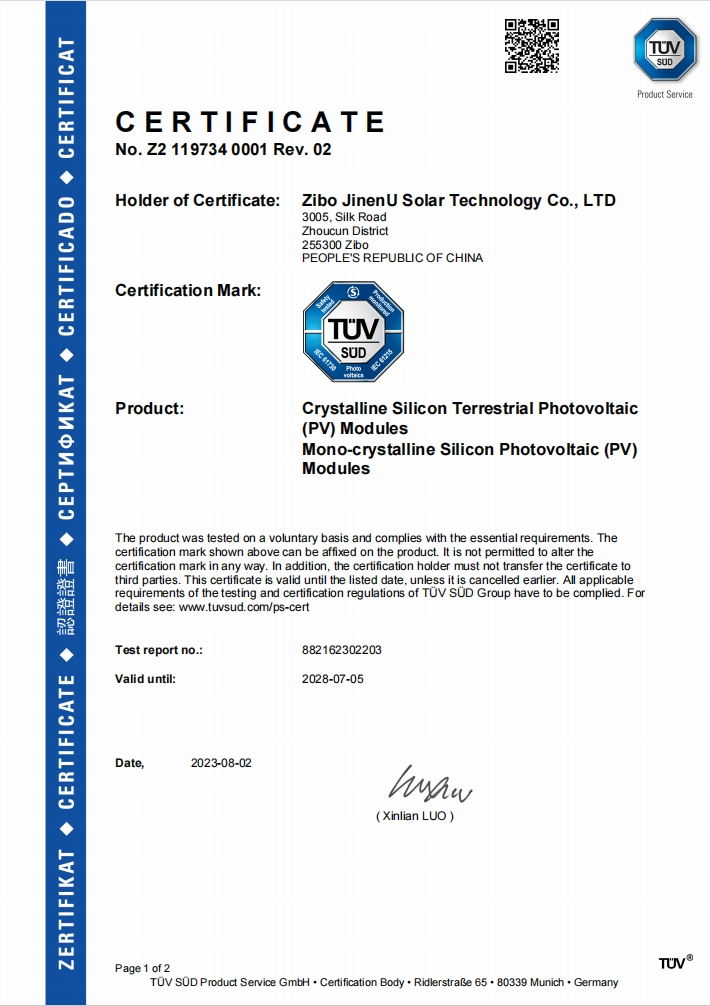 ● CB and CE Product Certification
JinenU Solar's customized solar modules have passed the tests and audits conducted by TÜV SÜD in accordance with IEC 61215 and IEC 61730, and have been awarded CB and CE certificates, which signifies that JinenU Solar's solar panels comply with a series of international certificates for safety and quality, and have been recognized by 51 CB member countries and can circulate freely in the scope of these countries. The CB certificate not only highlights JinenU Solar's manufacturing strength of the high-quality products, but also serves as a strong guarantee and support for the quality of JinenU Solar's products, and is a powerful proof of the module's stable performance, reliability, and safety.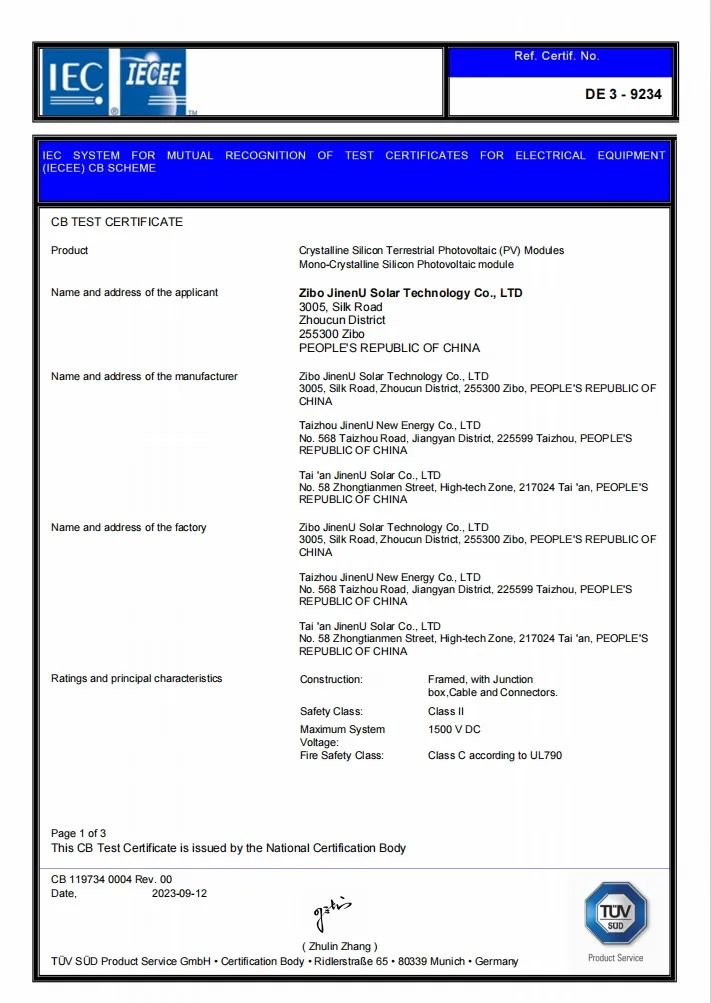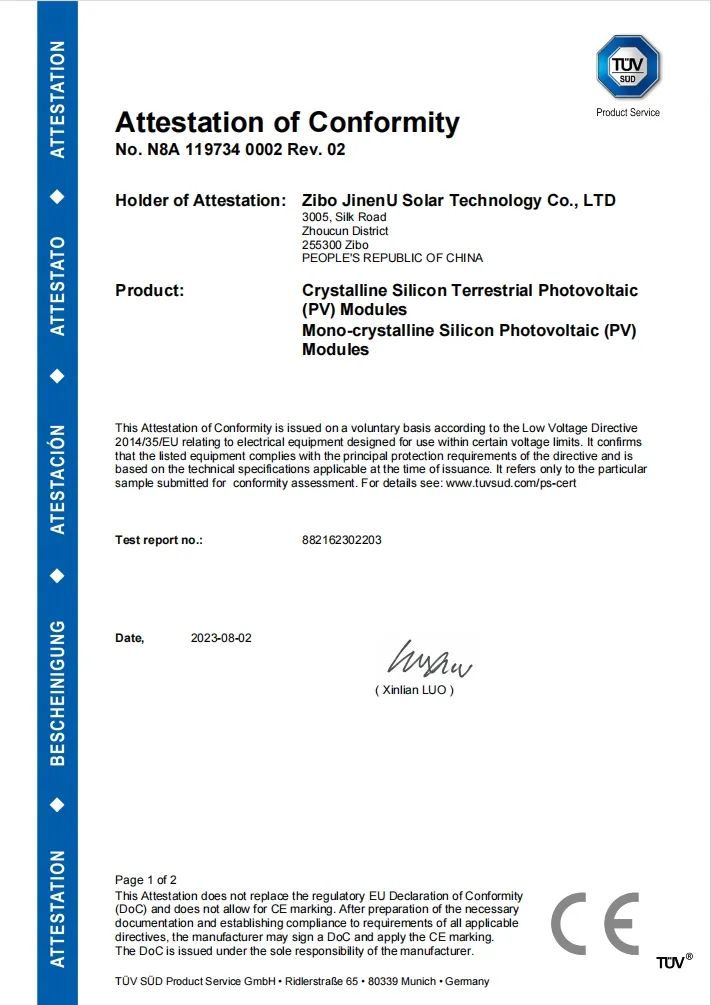 ● Salt Mist and Ammonia Gas Certification
JinenU Solar has been awarded the salt mist and ammonia gas certificates by TÜV SÜD, further proving the stability and reliability of JinenU Solar's panels under extreme environments. The salt spray certification confirms the long-term performance stability of JinenU Solar's modules under high salinity air environments along the coast. The ammonia gas certification demonstrates the reliable quality of JinenU Solar's modules under agricultural environment with high humidity and high ammonia concentration. Obtaining the salt spray and ammonia gas certificates signifies that JinenU Solar's customized modules have undergone rigorous corrosion resistance testing and have shown stability and reliability in harsh and extreme environments.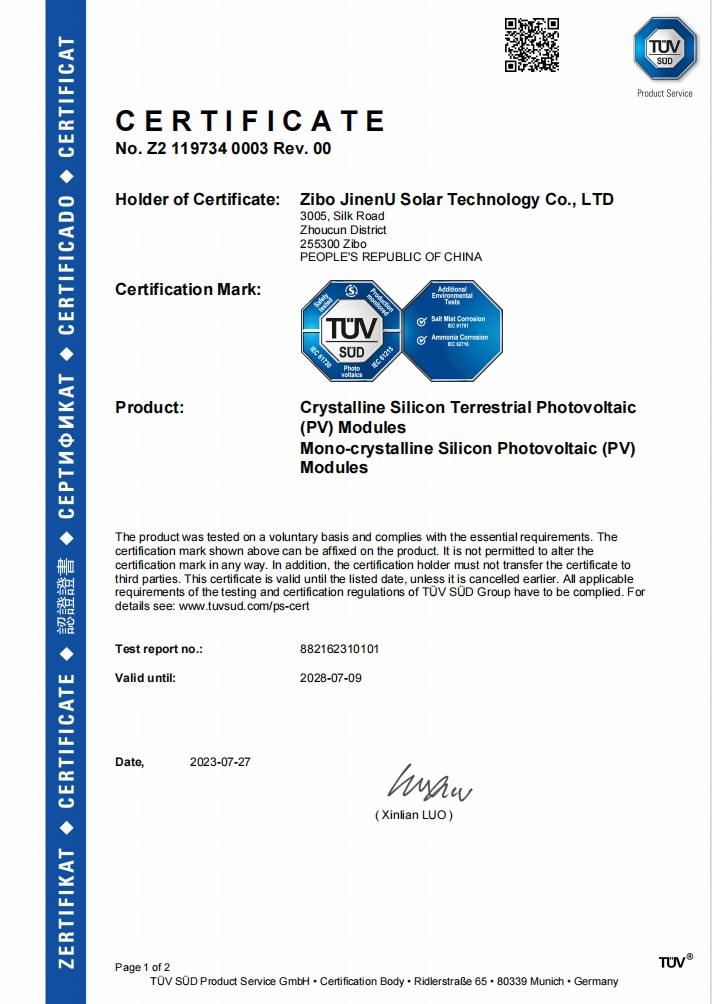 In order to meet the needs of international customers, JYP actively applies for certification in various countries, and has successfully passed the BIS certification in India, MyHIJAU certification in Malaysia, and JP-AC listing in Japan, so as to satisfy the customised certification needs of customers in both domestic and overseas markets in an all-round way.
Each step of the certification mark is a testimony to the strength of JinenU Solar and a high recognition of the quality of JinenU Solar's customized modules. In the future, JinenU Solar will continue to strengthen the certification system, create efficient products, continuously improve the quality of service, and actively promote clean production and intelligent manufacturing to empower customers.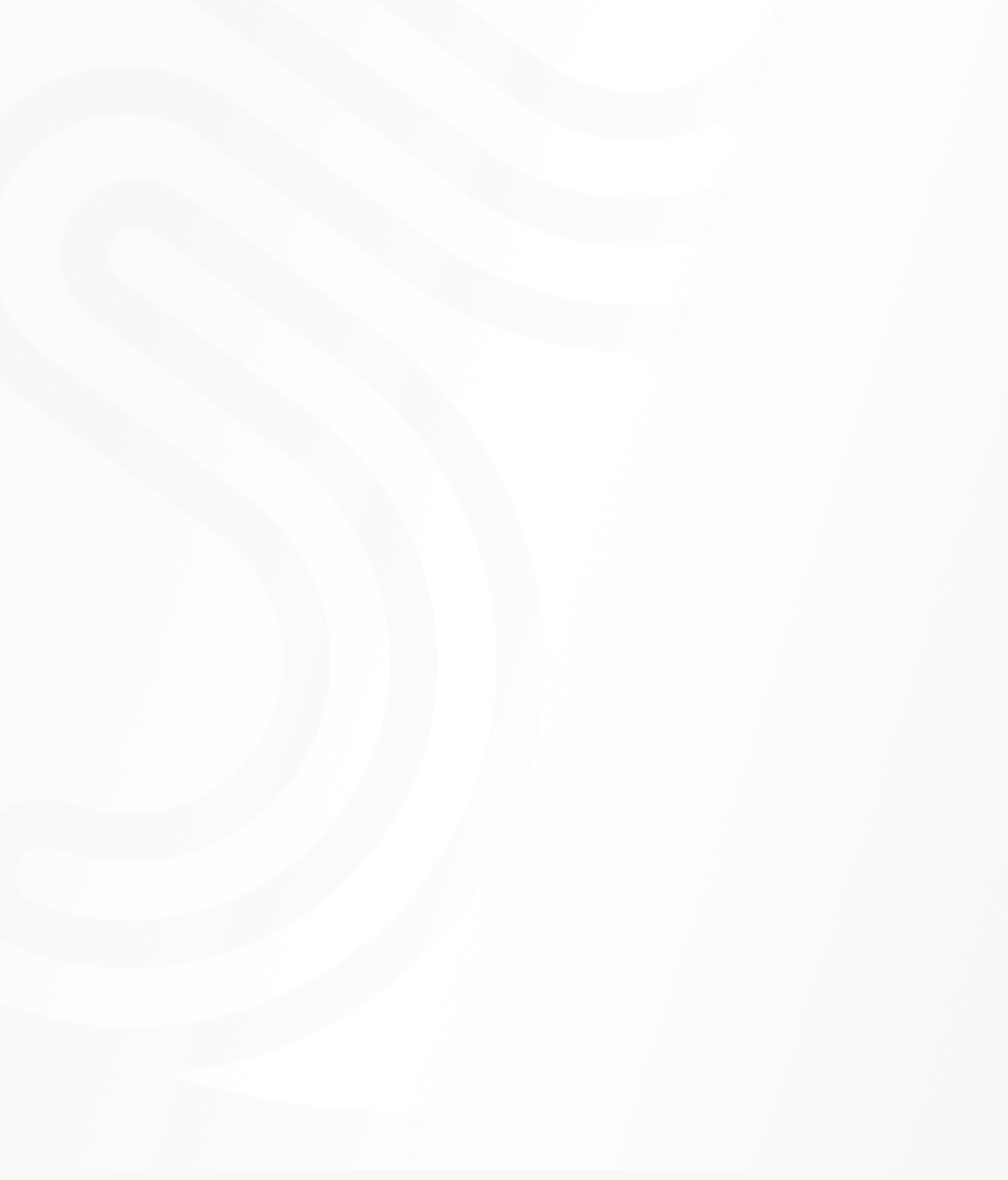 If You have ODM|OEM Requirement, Please Contact Us
Our professional team will provide the satisfactory customized production proposal for you